Featuring over 50 stores and restaurants throughout Millersburg,      Berlin and Walnut Creek with an added bonus of 30+/- vendors          at The Ultimate Girls Day Out (Health, Beauty & Fashion Show)        in Millersburg on Saturday, April 6th

Chocolate Walkers will also have an opportunity to earn up       to 3 entries at each participating business to win the      Ultimate Chocolate Lover's Drawing for a Carmel Kiss Chocolate-colored Diamond Necklace (valued over $1000).  Chocolate Walkers will receive a Chocolate Walk Passport with all of the participating businesses listed.  At each business you visit,     one entry stamp will be given when you pick up your chocolate treat. A second entry stamp will be given if you make a purchase and a third entry stamp will be given if you take a picture and post it on social media. You will leave your Passport at your last business stop. We will pick up all the Passports and make entries for each stamp on your Passport and place them in the drawing for the necklace, which will be held on Thursday, April 11th at noon the Millersburg Church of God.  Announcement of the winner will be listed here and also on our Facebook page.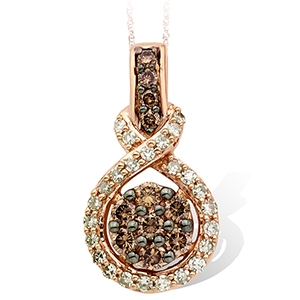 Tickets are $25 and only 300 tickets will be sold!
We will be selling tickets beginning February 1, 2019 on a first come/first served basis. You will receive an email confirmation once we have received your order and payment. Your Chocolate Walk Passport

with map of participating businesses and a pink goody

bag will be mailed to you on or before March 15th.   
A listing of participating businesses in Millersburg, Berlin and Walnut Creek (and possibly a few other villages) plus the businesses who will be featured at The Ultimate Girls Day Out on Saturday April 6th   will be finalized and posted by the end of February as we are currently in the middle of registrations.

Until then, check out who won last year's grand prize and their shocking generosity!